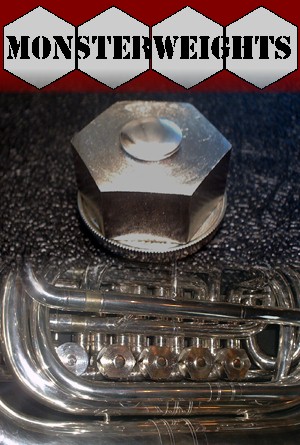 A new, exciting product for the Tuba
I once took a tour of the UMI factory in Eastlake, Ohio. During this tour the representative let my wife try a prototype trumpet with modular heavyweight bottom valve caps. We were impressed at the difference they made in the projection and tone in the trumpet. We didn't buy that horn, but we did get her a set of Curry CCaps for her Bach.
It got me thinking if such an improvement could be made to my tuba, which I loved to play but always thought it played too bright with a lack of core to the sound. This website and product is the result of that thought.

How do they work?
To put it briefly, some horns have more sympathetic vibrations than others do. As your buzzing creates music in the form of vibration, your horn will also vibrate sympathetically along with your buzz. This vibration can interfere with the purity of your sound, and create havoc with tone and responsiveness. Monsterweights "damp" the extra vibrations at the valve section, and make the tuba seem more solid, secure, and clear.
Please see the FAQ page for much more information and details.
What are Monsterweights?
Monsterweights are a simple, but inexpensive way to get the "toys" that trumpet players have had for years. They are a professional looking hex weight that you add to the back of your rotary valve back cap. They are bright nickel plated, and polished for a product that is great looking and a great way to improve your tone and projection.